How Well Do You Know Your 403(b)?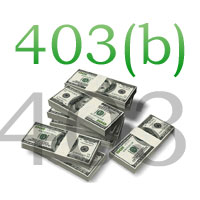 A 403(b), also known as a TSA (often referred to as an annuity or a tax sheltered account), represents a code section of the IRS and is similar to a 401(k) or IRA. Under Code Section 403(b), educators, hospital workers and certain other government employees can deposit a portion of their salary, pre-tax, into a fixed annuity or index annuity to supplement future retirement. Code Section 403(b)(7) allows these same pre-tax deposits to be invested into mutual funds or variable annuity rather than fixed or indexed annuity. However, direct investments to mutual funds rather than annuities may be preferable, depending on your risk level and overall goals.
Funds deposited into TSA's reduce your income before taxes, similar to cafeteria plans. There is a maximum amount which can be deposited annually (per calendar year), indexed with the tax law, and may be higher in cases where you have been at the same district for more than 15 years and/or are over 50 years of age.
TSA's are only allowed as a payroll deduction, but because they are deducted pre-tax, there is an interesting phenomena.  Beginning a new 403(b) or 403(b)(7) in a 20% tax bracket, you will receive credit for about $430 in the account for every $350 that is deducted from your paycheck.
While you must deposit 403(b) or 403(b)(7) funds as a payroll deduction, another way to maximize your tax deduction and investments is to convert capital in your bank, credit union or other accounts to a TSA by depositing the maximum amount allowed from your paycheck and use the liquid accounts for living expenses, instead of your paycheck.
Under 403(b), the interest rate or rate of return varies, based on the type of investment. Because TSA's are set up as a retirement supplement, they are regulated by the IRS.  Even though the investment may allow withdrawals, if funds are withdrawn prior to age 59 ½ or retirement (whichever is sooner), there are substantial IRS penalties and the withdrawal also becomes taxable income.  However, loan provisions are sometimes available.
In summary, choosing a 403(b) is your option and only you can commit to it.  But the sooner you begin, the more years you will have before retirement, which means you will need to save less money each year until your retirement.
 You need to plan today for your worry-free retirement tomorrow. To arrange a Courtesy Interview, contact us, call, or email Jack@SheaWealthCare.com.